Because of the attack on the computer network of the University of Duisburg-Essen, some content (in particular some image files) cannot be accessed because it is stored on central servers of the university.
Former member at ESAGA
Email: martin.schwald - at - uni-due.de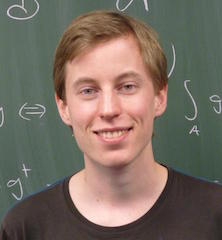 Since May 2017 I am a postdoc in the research group of Prof. Daniel Greb at the Universität Duisburg-Essen. Before that I graduated in the Graduiertenkolleg Cohomological Methods in Geometry at the University of Freiburg. The main field of my research interests is complex algebraic geometry, in particular birational geometry in the philosophy of the minimal model program.
Currently I am working on the deformation theory of families of irreducible holomorphic symplectic manifolds, Lagrangian fibrations of singular holomorphic symplectic varieties and the question when a Kähler manifold admits an algebraic approximation.