Because of the attack on the computer network of the University of Duisburg-Essen, some content (in particular some image files) cannot be accessed because it is stored on central servers of the university.
Address:
Universität Duisburg-Essen
Fakultät für Mathematik
45117 Essen

Office: WSC-S-3.13 (Thea-Leymann-Str. 9, 45127 Essen)

Phone: +49 / (0)201 / 18-36898
Email: daniel.greb - at - uni-due.de

Office hours
Tuesday, 4pm - 5pm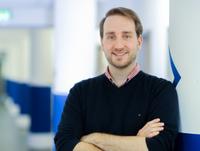 Secretary: Martina Striebeck
How to find the department: see the detailed description and map available here.
Map University (look for "Mathematik")
Map Offices and Seminar Rooms
I am the deputy spokesperson of the DFG Research Training Group 2553 "Symmetries and classifying spaces: analytic, arithmetic and derived".
I am a member of the editorial boards of
Abhandlungen aus dem Mathematischen Seminar der Universität Hamburg
Beiträge zur Algebra und Geometrie / Contributions to Algebra and Geometry
Épijournal de Géométrie Algébrique (EPIGA)
For instructions on how to submit, please visit the journals' websites.
---
Veritas numquam latet.
L. Seneca, Troades
On the Will in Nature

Source: https://quotepark.com/quotes/1768676-arthur-schopenhauer-the-truth-can-wait-for-she-lives-a-long-lif
On the Will in Nature

Source: https://quotepark.com/quotes/1768676-arthur-schopenhauer-the-truth-can-wait-for-she-lives-a-long-life/
On the Will in Nature

Source: https://quotepark.com/quotes/1768676-arthur-schopenhauer-the-truth-can-wait-for-she-lives-a-long-life/
On the Will in Nature

Source: https://quotepark.com/quotes/1768676-arthur-schopenhauer-the-truth-can-wait-for-she-lives-a-long-life/
On the Will in Nature

Source: https://quotepark.com/quotes/1768676-arthur-schopenhauer-the-truth-can-wait-for-she-lives-a-long-life/

Source: https://quotepark.com/quotes/1768676-arthur-schopenhauer-the-truth-can-wait-for-she-lives-a-long-life/
The truth can wait, for she lives a long life.

Source: https://quotepark.com/quotes/1768676-arthur-schopenhauer-the-truth-can-wait-for-she-lives-a-long-life/
The truth can wait, for she lives a long life.

Source: https://quotepark.com/quotes/1768676-arthur-schopenhauer-the-truth-can-wait-for-she-lives-a-long-life/